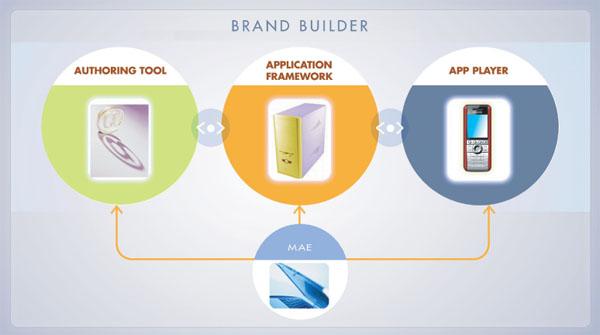 Brand Builder is a web-based tool to design, create and execute mobile applications and stand alone promotions across platforms and devices in nearly fifty percent less time. From a full song download player to a rich community blogging app, Brand Builder supports information-, entertainment-, content- and LBS-based products and pushes them to more than 250 BREW and Java handsets, as well as to the WAP browser on mobile devices.
In addition to deploying these robust applications quickly, partners are able to easily update and maintain these products independently without significant technical involvement. Brand Builder can also quickly integrate with backend content systems as well.
Brand Builder Features:
* Web-based visual authoring tool
* Drag and drop controls
* Automatic plug-in for designating spaces for interactive advertisements
* Support for entertainment, information, content, media and LBS-based content
* Multi-facet player that supports all functionalities for any media playback
* Easy-to-implement, pre-defined templates provide the framework for content that reflects a branded look and feel
Integrated approach substantially reduces time-to-market across platforms.